McElroy Minute with Mark Lawson
For our next employee spotlight, we wanted to spend some time with Vice President of Sales, Mark Lawson, before he retires next month. As you might expect, during his 38 year career at McElroy Metal, Mark has held several different positions.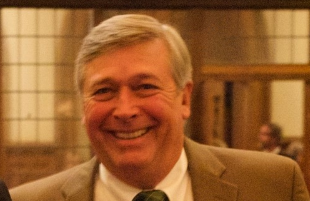 Mark was initially hired as a salesman for us in Ohio in 1985 and sold mostly Max-Rib because while it might be hard to believe, it was one of the few products we offered at the time. In 1989, became the Great Lakes Division Sales Manager and led the Marshall, Michigan team to many record breaking years. After having his fill of midwestern winters (smart man!) In 1992, he decided to head south to warmer climates and accepted the position of Sales Manager for the Peachtree City, GA facility.
Much like the Marshall facility, sales flourished under Mark's leadership at Peachtree. Consequently, Tem McElroy asked him to start the new Architectural Products division of the company in 2002. During his five years as the Director of Architectural Products, Mark's primary goal was to increase our presence with the architectural community and our involvement on high-end commercial projects such as schools, convention centers and governmental facilities.
In 2007, Mark was promoted to Director of Sales and quickly moved to the Vice President of Sales position in 2008. As our VP of Sales, his primary responsibilities have been to ensure that we continue to increase sales through new customer acquisition, new product introductions and cross selling campaigns to existing customers. We have continually increased sales and profit under his leadership. During his time as VP of Sales, he has also worked closely with the Technical Services group to develop SOPs for our estimating and drafting services.
Let's start with the exciting stuff first. What are your plans after retirement? I'm planning to play a lot of golf. But I'm also going to help my two sons (Mark & BJ) with their fire suppression chemical business. My oldest son designed and patented a product to put out fires in electric cars and they are doing phenomenally well. I'm going to help them sell. They also have a product that purifies air in ambulance and EMT vehicles which is taking off. They also offer soap and detergents that fire personnel use to clean their clothing.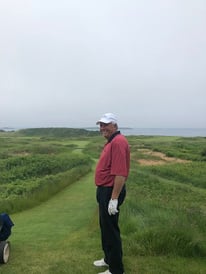 Mark playing golf @ Portstewart in Ireland
What will you miss after leaving McElroy? I'm going to miss the people. Walking in the building today and saying hi and seeing everyone is a big part of my life. And since I'm moving back to Peachtree City, GA to be near family and help my sons with their business, it's going to be a bigger disconnect for me than it is for some folks who remain local after retirement.
What do you like about your role as our VP of Sales? I like the fact that I get to help every part of this company grow to be better. I work with Tech Service people, both estimating and drafting. I work with MMSC stores and of course I work with the salesmen. And I think I've had an effect and input into the success and growth that we've had.
What does a typical day look like for you? When I'm in the office, I'm on the phone talking to our sales managers and salespeople helping them solve problems. No one calls me except when they have a problem but that's ok. I really enjoy helping and solving problems. When I'm not in the office, I'm traveling and meeting with customers. My role is to be a conduit between the customer and the executive staff at corporate regarding what we need to improve to be the best we can be.
If you could switch jobs with anyone else in the company who would it be and why? It would probably be one of our Service Center Managers. I like their freedom and autonomy, and if they do well, they are well compensated.
Who has been your biggest mentor at McElroy? Mr. McElroy, John Kelly, and John Darrah. Mr. McElroy and John Darrah have been great leaders because they always wanted it done right but also demanded that you have fun while working hard. As for John Kelly, he has always been a trusted friend that I could bounce ideas off and never felt like a dumb ass or worried about confidentiality.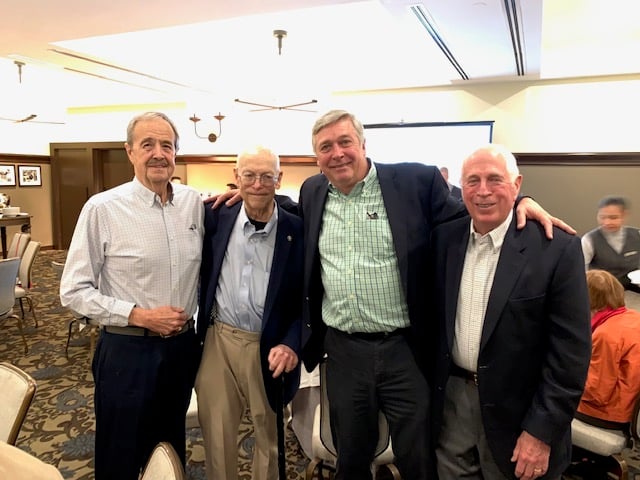 From left to right: John Darrah (Former VP of Sales); John Kelly (Valspar/Sherwin Williams Rep & confidant), Mark Lawson & Tem McElroy (Chairman of McElroy Metal)
What 3 words would you pick to describe McElroy? Integrity, fun, hard-work
What advice would you give to new hires? This is a great company. Keep your head down, work very hard, stay in your lane, learn everything there is to know about our business, and you'll do just fine. I've been through recessions while and McElroy, and have even been passed over for promotions. I never gave up or never quit trying. I told every boss that I'd give them 100%. I think I did that and it all worked out for the best.
Before you leave us, can you share some favorite McElroy memories? I remember meeting Ken Gieseke (Senior Vice President) for the first time 31 years ago. Our memories differ on how we met. I remember him being on one of Rick Bragg's (former Marshall, MI Sales Manager) boat drinking a beer and fishing. My first impression of him was that he was young and very resourceful.
I've also had many great times traveling with our sales folks. You really get to know someone when you spend hours and hours in a car with them or working a trade show. Sometimes the trade shows can be a drag but it's also a great time to find out the pulse of the industry. A lot of folks look at the shows as a punishment but they really need to embrace them and the chance to learn about the industry and grow.
What's most important to you? Hands down, family is the most important thing to me.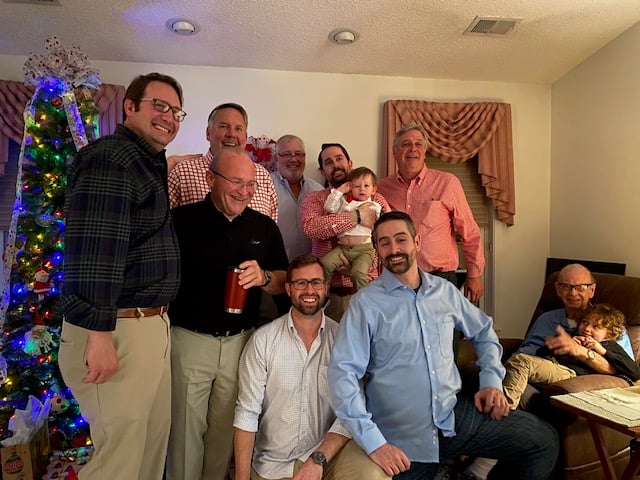 Great memories with the Lawson men at a recent Christmas. Mark pictured with his dad, brothers, sons, grandsons and brother in law.
What has been the biggest challenge in your career? The biggest challenge has been the quickness of how information is gathered today with technology and computers. It can be a challenge to accurately process and analyze everything as quickly as it comes in.
What's the biggest change you've seen in your time at McElroy? When I started at McElroy, there were some definite problems between departments. I think we've become a much better company that helps and supports each other. From the executive offices to our newest employee, we realize we need everyone pulling together and it shows in our results. The other big change that has helped us is our continuous improvement program. The focus on getting better everyday whether through small, incremental or major changes, really gets everyone pulling in the right direction.
38 years is a long time. Why have you stayed with McElroy Metal? I've been challenged every single day with something new and I've always had a lot of fun. Ultimately, I've stayed because I have a good time solving problems and making people successful.
What is the best/most valuable thing you've learned here? Mr. McElroy taught me early in my career to treat everyone the way you want to be treated and to have fun while you're doing it. I've also learned that it's possible to be successful and have fun. I also hope throughout my career, I've taught our employees that integrity is absolutely the most important characteristic in business. It's especially important in a sales role as many folks think you're trying to con them.
Let's dive into some personal topics. What is your favorite food or hobby? It's no secret that I love to play golf. Italian food might be my favorite but I enjoy a lot of other foods too. And I'm a big Ohio State fan. I really enjoy watching them play with my boys and grandson whenever I get the chance.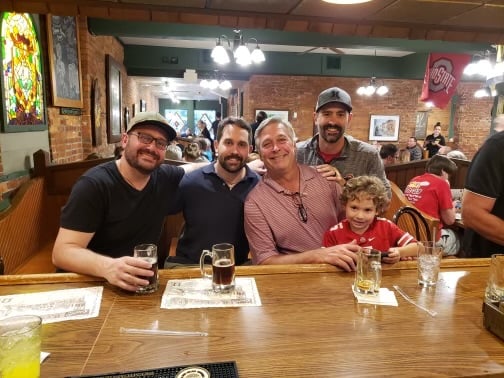 Photo taken at Schmidt's in Columbus Ohio before the Ohio State/Miami of Ohio football game. From left to right: Mark with his sons William, Stephen, Mark, and Grandson, Mark Allen III
What's your favorite TV show; movie; band; or music? My favorite tv show today is Blue Bloods. My favorite Band would either be the Eagles or Arrowsmith. I'd probably go with the Eagles because I was able to see the last concert they put together in Bossier before Glen Frey died.
What was the first concert you attended? I think it was the band Chicago in Athens, OH during college. It was a great show!
What does your ideal weekend look like? Golf on Saturday and Sunday. And a big steak at the country club on Saturday night.
If you had to eat one food every day for the rest of your life (or one drink type), what would it be? Hands down, that would be red wine and a filet mignon cooked medium well. I used to be a cabernet guy but I've been on a Pinot Noir kick lately.
What's something not many people know about you? I was the golf club champion at two Ohio courses when I was 23/24 years old: Fairgreens Country Club in Jackson, OH and Athens Country Club in Athens, OH. I also played on a state semi final basketball team in high school.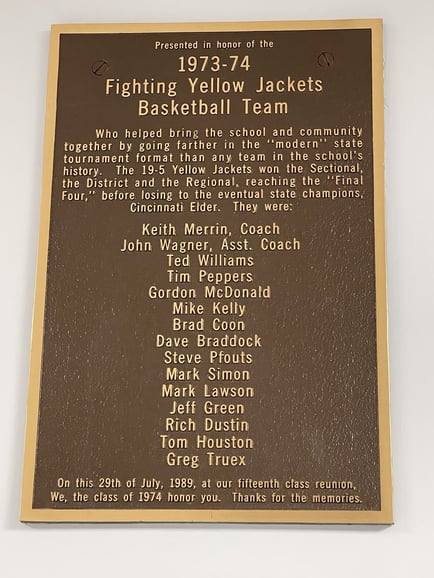 What's something on your bucket list and why? I have two things that I really want to do. One is to go to Iceland and see the Great Northern Lights. The other is to play golf at Doral Country Club down in Miami.
Where's the best place you've traveled to and why? I had the best time when I went to Australia because I saw so many unique things there. For starters, we played golf with kangaroos jumping all around us. I certainly had never done that before. I was also able to swim in the ocean/sea and see the Great Barrier Reef. And the highlight was seeing one of my sons get married while I was there. It was a great, great time!
What's one item you can't live without? I can live without anything but water.
What's the first thing you would buy if you won the lottery? I would make sure that my grandkids had a college fund.
Where are you happiest? Probably on the golf course, as long as I'm playing well.
What parting words do you have to share with us? I would like to say thank you to the McElroy's for putting up with me for all these years. It's been a great ride and I'm truly going to miss this company and the folks here.
Editor's Note: Mark has touched many, many lives during his time with McElroy. Through it all, he's pushed us all to be better and been the first to celebrate our successes. We wish him well in retirement and will treasure our many memories!
Employment at McElroy Metal
McElroy Metal's success over the years is largely attributed to the talented and dedicated employees across the country. McElroy Metal's extensive footprint of locations and distinct business units offer employment candidates a wide variety of fulfilling options such as manufacturing, customer service, retail and corporate positions.
Comments on this article:
Scroll down to the bottom to submit a comment and join the conversation.