A McElroy Minute with Tracy Kirk
For our next McElroy Minute, we moved the spotlight to our Sales group.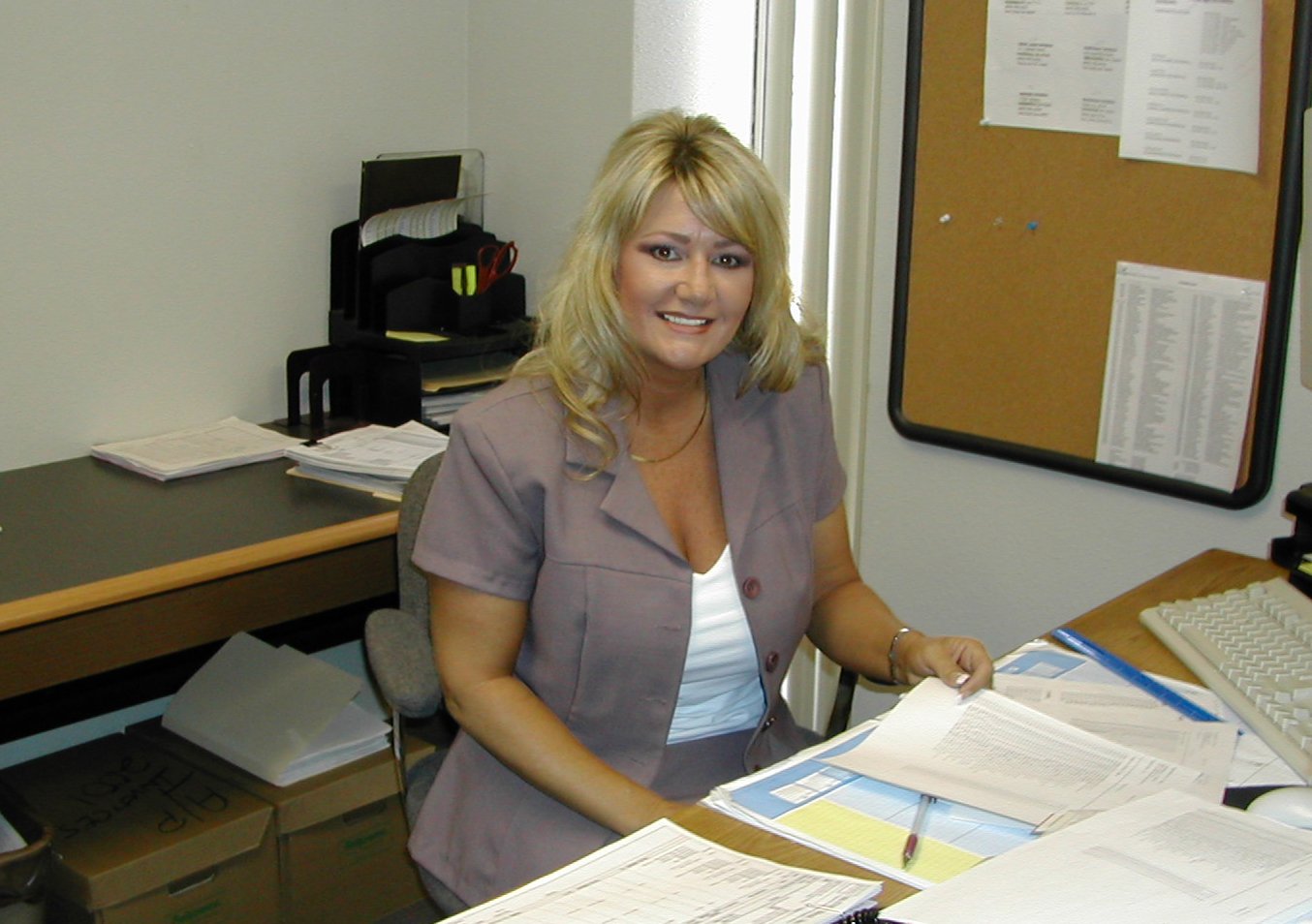 Tracy, when she was a Customer Service Manager
Celebrating her 32nd anniversary this year, Tracy Kirk is one of the longest-tenured members of our sales team. She is currently the territory manager for Arizona, Utah, and a few special account assignments in California. In her sales role, Tracy focuses on new business development, existing account management, estimating, project management, and technical support for our customers.
While Tracy has built quite the resume for us in sales (3-time Salesman of the Year & 12-time Top Producer), her experiences with McElroy Metal first started as the receptionist in our Adelanto plant. The receptionist role is still one of Tracy's favorites because it enabled her to have her finger on the pulse of the entire division. Tracy later moved into the role of computer operator for Adelanto, then inventory clerk, and later became a customer service representative.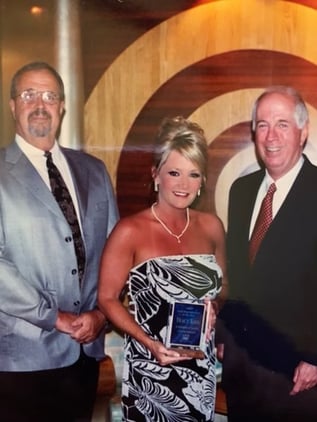 Tracy with John Darrah, retired VP of Sales (left), and Tem McElroy after winning a Sales Rep of the Year award.
By this time, Tracy had been with McElroy Metal for 5 1/2 years, and clearly, the management team had taken notice of her work ethic and loyalty. As a result, she was given her first management opportunity when she become the Customer Service Manager for Adelanto. After fulfilling that role for two years, she transitioned to outside sales in 1997, where she was the first female to fill that role for us. After a few years in sales, Tracy assumed the position of Sales Manager for the Adelanto division and has also served as a member of our core LEAN team.
What do you like about your job? That I have the opportunity to learn something new every day. That's an amazing testament to McElroy and our industry when you've been here as long as I have.
Who has been your biggest mentor at McElroy? I've obviously worked with a lot of great people in my time here, but three really rise to the top from a mentor perspective for me because they have always been willing to answer any question I have about the business. In fact, the more interest I showed in our business, the more willing they have been to help me understand the bigger picture. They also have each been incredibly good to me by allowing me to be a part of larger decisions that my title may not necessarily warrant.
Pete Nadler: First, I give him huge props because he had the courage and conviction to break tradition and hire the first female in outside sales for McElroy Metal. He gave me the opportunity when it simply wasn't being done, and he took a huge risk by doing so. Beyond the opportunity, one of the most valuable lessons that he taught me was that you should always have 2-3 options prepared before telling someone "no." Pete always felt that people can accept "no" much easier when you're giving them something else to latch on to. That continues to be a huge help when I'm navigating tough conversations with customers, prospects, and internal folks today. I even use this in my personal life.
Mark Lawson: I've learned a lot from Mark throughout my career, but he's taught me some things I've found especially helpful in the last 3-4 years. The most prominent is "just throw the ball." Some of you may recognize the phrase from the movie Bull Durham. It's easy for all of us to get stuck in our heads sometimes and overthink things that may be out of our control, and it just so happened that I was in one of those head spaces when Mark called me one afternoon. After listening to me for a few minutes, he said, "Just throw the ball." As soon as I heard those 4 tiny words, it was as if a light bulb went on for me. I felt as if a huge weight had been lifted off of me. Needless to say, when I get into that undesirable headspace, I often hear Mark's voice in my head saying, "just throw the ball." So odd that a phrase so tiny would become so impactful and helpful to me.
Ian McElroy: While Ian may be surprised by this, his and my conversations play a very large role in my day to day decision making in my territory. I not only value his insight during our conversations, but I make note of them and apply them. I feel fortunate that he will discuss everything from supply chain questions to business and sales strategy. He challenges me with his thoughtful and precise questions and has taught me over the last two years that patience is power. I find it both impactful and telling as to the type of leader that he is that he continues to share his knowledge and insight with me.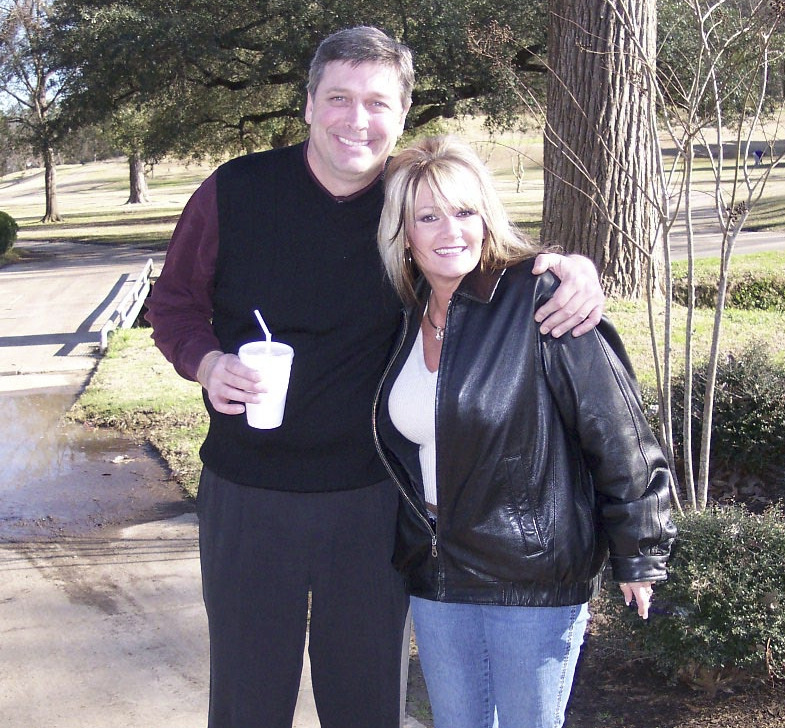 Tracy with Mark Lawson, Vice President of Sales
What advice would you give to new hires? They may not sound especially unique, but I've always focused on the principles below and believe they have been crucial to what I've been able to accomplish.
"Take pride in what you do, even when you think no one is watching." Although you think no one notices… they really do.
"

Nothing good thing comes easy."

It has taken me 32 years to accomplish what I have here. I hope that I'm showing those coming up behind me that you can be whatever you want to be here at McElroy; you simply have to want it bad enough.
"Do your homework and be prepared." If you are unprepared, your competitor is going to eat your lunch.
What has been the biggest challenge in your career? Honestly, I would have to say being female has probably been the biggest challenge simply because the construction industry is, and has been, so male-dominated. As one of the early females in this industry, there was an unwritten rule that you needed to be quicker, smarter, sharper, and better than your male counterparts because you were different, and that is the first thing that people noticed. People expected you to fail not because of what you did or did not know but because of what you looked like. After all, how could you possibly have big blonde hair, wear stilettos, and speak steel all at the same time lol. Thankfully that attitude has improved immensely over the years. With that said, that challenge and the pressure associated was a large driving force for me and has aided in my success.
What is your favorite food? Hands down, it's Italian food from an authentic Italian restaurant.
What can we find you doing when you're not at work? While I don't get to do it as much as I'd like, painting is my happy place. I love to paint still life and realism. In fact, my dream retirement would be to paint at the beach. There's just something about the sound of the waves, salt in the air, and painting that brings me peace.
A teacher in fourth grade really started my interest in painting. We were doing a drawing project one day in class, and it just so happened that her friend (a college art teacher) had visited the class that day. She kept asking me questions about my project and asked me if I had ever painted before. I'm assuming that she saw something in me because the next thing I knew, she had turned me loose with brushes, paint, and canvas. She became my art tutor immediately after that. It's really been a passion of mine since then. My favorite style of painting is still life and realism. I study all of the great masters, but William Bouguereau is probably my favorite.
What's something not many people know about you? Hmmm, probably that I am a Great Grandmother. Weird right?
What was the first concert you attended? I've been to over 50 concerts in my lifetime; however, Van Halen at the Forum in Los Angeles in 1983 was my first. They and Led Zeppelin were my favorite bands then and still rank in my top ten today. There's no way I could pick just one favorite song, there are simply too many to choose from.
What's something on your bucket list and why? I'd love to travel to Europe, specifically Italy and Paris. I can't wait to visit their museums, experience the culture, and of course, eat some authentic Italian food.
What is one thing you can't live without? Family, hands down.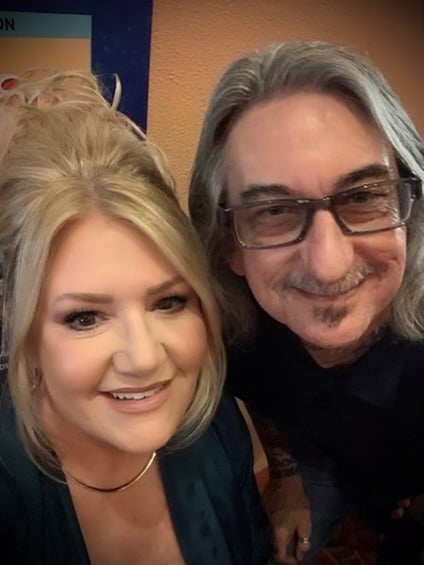 Tracy with her husband, Paul
What is your funniest memory at McElroy? Wow, there have certainly been a lot of them over the years. Some of my highlights have centered around the national meeting. The funniest one was probably the national meeting in San Diego about 20 yrs ago. I had set my sights on getting even with Ken Gieseke for making me take some clients deep sea fishing. Long story short, I managed to anonymously torture him for two days straight in public at the national meeting without him knowing that it was me. The mascarade still holds a special place in my heart to this day. Ken was a good sport! I'm really glad to see us getting back to the national meeting in 2023. There's nothing better than getting together with everyone and realizing that we are an awesome force to be reckoned with and that we all play an important part in something bigger.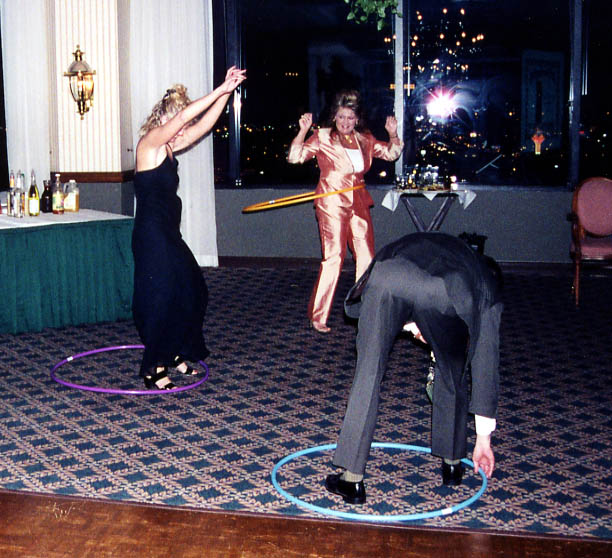 Tracy, "shining" at a National Meeting showcasing her Hula Hoop skills!
After 32 years, why are you still here? Because I still believe in the McElroys and the McElroy Machine.
Employment at McElroy Metal
McElroy Metal's success over the years is largely attributed to the talented and dedicated employees across the country. McElroy Metal's extensive footprint of locations and distinct business units offer employment candidates a wide variety of fulfilling options such as manufacturing, customer service, retail and corporate positions.
Comments on this article:
Scroll down to the bottom to submit a comment and join the conversation.